What Is the Best Hybrid Cloud Approach?
Everyone is at a different phase of hybrid cloud computing maturity, some are still early in exploration while others are taking their third or fourth run up the hill looking for the best hybrid cloud solution.  Wherever you sit in the adoption curve (or hype cycle), you are likely looking for a number of advantages, including faster app provisioning and flexible resource utilization. That's the basic definition of cloud after all.
Most enterprises undergoing cloud and digital transformation projects eventually find themselves in a situation where they need to manage both private and public cloud resources.  There are just too many applications that are not ready to move to the public cloud and many of the early companies who tried to go 100% public cloud are starting to think about cloud repatriation.  Hense the overwhelming popularity of a hybrid approach.
Public cloud solutions are known for easy scale — whether that means bringing on more resources to meet growing demand, or reducing resources (and cost) in times of contraction. On the other hand, private clouds are traditionally thought to be more secure and appropriate for regulated industries, with your data and apps locked safely behind your company firewalls and isolated from other organizations' resources. Private clouds can also generally be more flexible, offer improved control and customization to meet unique business needs, plus may represent a lower total cost of ownership (TCO).
As such, when faced with the choice between public and private cloud, you may consider taking a third option: hybrid cloud.
What Is Hybrid Cloud?
Hybrid cloud infrastructure is one that combines many of the advantages of both public and private cloud solutions. Incorporating management, orchestration, and automation across multiple environments, the hybrid cloud connects one or more public cloud services as well as on-premises hypervisors and data centers, into a single shared control plane so you get the best of both worlds.
Chuck Hollis, former CTO at EMC and VMware floated the idea of a private-hybrid approach back in 2009 and may have been ahead of the curve now that we're seeing so much interest in the space.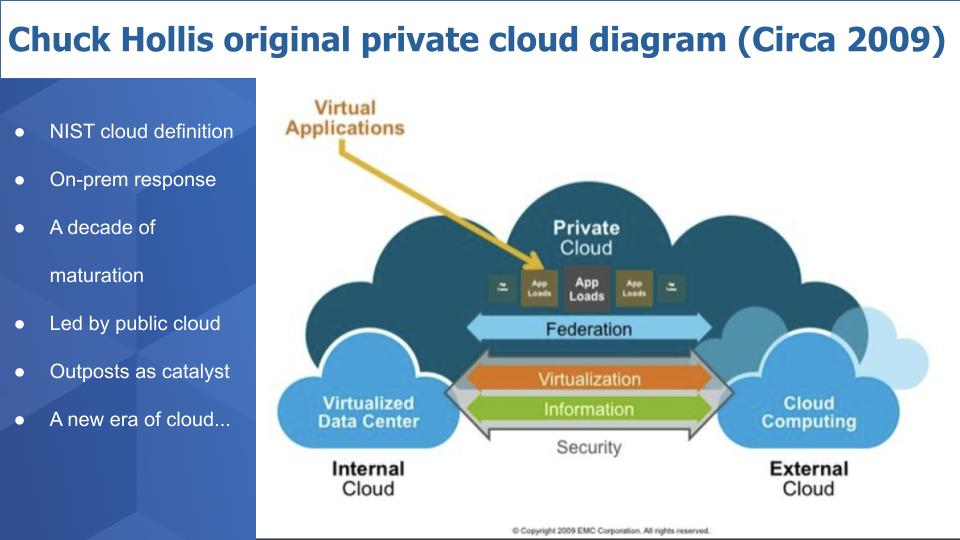 How Do Hybrid Clouds Work?
When the concept was first introduced, it was primarily focused on the mechanics of shifting application stacks to function with the public cloud infrastructure, while accepting that those teams that left running applications on-prem would not get the same level of speed and agility. There was also early speculation that app stacks might span on-prem and public cloud but the networking complexities of that approach have made it less widely adopted.
In modern hybrid clouds, however, expectations have changed and the focus has shifted away from lift-and-shift and connectivity and into the domain of provisioning pipelines and automated processes that can work the same independent of cloud endpoint.  The best hybrid cloud strategy focuses on the business value of a mix of private, public, and hosted clouds while including the right orchestration and automation to bridge the gap.
As for the actual mechanics involved, hybrid clouds work in much the same way as more traditional public and private cloud options. Locations can be connected via dedicated or virtual networking layers or can benefit from distributed worker nodes that create logical connections into a central control plane.
Hybrid cloud infrastructure is an inevitability for most enterprises more than a strategy; over time, multiple business units and teams simply end up running a heterogeneous mix of private and public clouds.  Only 25% or so of global applications are running in the cloud which means companies need to invest in infrastructure as a service (IaaS) and platform as a service (PaaS) strategies on-prem to bring public-cloud agility into the datacenter.  In an on-prem IaaS or PaaS scenario, a hypervisor layer provides abstraction but a true orchestration platform is required to abstract the rest of the provisioning experience – self-service portal, monitoring, config management, logging, backup, and more.
Benefits of Hybrid Solutions
The best hybrid cloud solution may provide a number of distinct advantages, but most of these relate back to a single, overarching benefit: the ability for organizations to achieve speed and agility for 100% of their workloads no matter where they live.
The hybrid cloud approach expands the available options organizations have for aligning specific use cases with their optimal computing environments. Along these same lines, hybrid solutions make it possible to scale computational power to meet business demand on a daily basis. When resource needs mount — perhaps to match growing demand following a new product launch or to coincide with a company's 'busy season' — businesses with the best hybrid cloud architecture can elastically scale or re-platform workloads into the public cloud. In terms of investment, this approach offers a clear improvement vs overpaying for ongoing access to resources in the public cloud, only to have them go unused during times of low need.  
Other advantages include reduced need for underutilized on-premises infrastructure, increased agility in responding to change and emergent events, and improved business continuity through backing up business-critical data from private cloud to public cloud options. Hybrid cloud solutions likewise may offer improved security and risk management, by giving businesses crucial control over where their data is housed, and what technical security measures to include. 
What is the Best Hybrid Cloud for You?
Hybrid clouds deliver undeniable value to organizations that have a heterogeneous set of mixed workloads, offer a range of IT services to stakeholders, are in highly regulated industries, or have significant amounts of data residency concerns that must be addressed. If you are looking at hybrid cloud options, here are a few considerations on approach:
Hypervisor-centric:  Hypervisor and OS vendors like VMware, Nutanix, and Red Hat have developed hybrid cloud management offers for their customers. For example VMware vRealize Automation is a VMware specific automation tool that has some public cloud fundtionality.  However, the downside is they are not likely to play well with others since their primary goal is to control the workload location. Many organizations are moving their orchestration tooling away from these vendors to eliminate lock-in.

Cloud-centric:  Offerings such as AWS Outpost or AzureStack are technically hybrid cloud offers since they mix on-prem and public destinations.  However, don't mix semantics with reality.  These are on-prem versions of that public cloud provider so you still must buy-in to an all-AWS or all-Azure way of life. For organizations that have a lot of on-prem applications running in VMware or Nutanix which are not going to move then this just creates another island of management in the datacenter.

Unified:  A Unified Hybrid Cloud Management platform which is designed with you in mind could be the best hybrid cloud choice.  If you can centralize provisioning, governance, and cost managment behind a common portal then users don't have to become experts in each interface and you don't have to get wed to a single hypervisor or public-cloud vendor. Here is a copy of Gartner's market guide for cloud management tooling – an area where Morpheus has been a leader for multiple years.
Morpheus Data for Hybrid Cloud Management
Although the hybrid cloud can give the best of all worlds, getting the best experience takes a platform designed from the ground up to bridge the gap. Morpheus Data provides the solution, with a 100% agnostic cloud management platform, designed to bring together hybrid cloud management needs including governance, reporting, optimization, and cost control all centered around powerful self-service provisioning into any cloud.
The Morpheus hybrid cloud application orchestration platform allows businesses to easily build, manage, and govern their hybrid clouds, providing a common approach to provisioning, governance, policy management, and cost control. Built to bring together existing tools and to standardize processes across multiple clouds into a single interface, Morpheus abstracts the underlying cloud accounts, allowing even non-experts to get the most out of their hybrid cloud solution. For complete hybrid cloud lifecycle management, Morpheus is here to help you manage your cloud, your way.
Request a demo today, and see just how effective the best hybrid cloud management can be.